Peace of Our Savior Lutheran Church and Preschool - WELS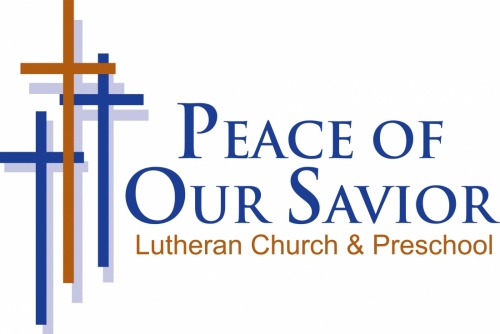 "Peace from God the Father and Christ Jesus our Savior."

Titus 1:4

Sunday Worship Services
9:30 am - Worship Service

10:45 am - Sunday School and Bible Class
July 2, 2020

God So Loved
"For God so loved the world that he gave his only-begotten Son, that whoever believes in him shall not perish, but have eternal life. John 3:16
God so loved the world that he gave us his Son, that whoever trusts and believes in him alone will be eternally blessed. The basis for this faith is Jesus Christ - God who became a man for you. Whoever firmly trusts this Mediator remains built on this basis for faith.
God the Father does not want the sinner's death. His Son helps you out of all distress. The Holy Spirit teaches by the Word so that some will be saved. Therefore, be confident because God's Son forgives sins. You are righteous through the blood of Christ. And baptism gives you the greatest good. If you are sick, even if death comes to you, remember this in all distress: Jesus was given for you. That is the right basis for faith.
God so loved the world that he gave his only-begotten child for the complete reconciliation of all those who are guilty, deserving damnation. But whoever believes will inherit eternal life.
So God loved you too. And still loves you to this hour. When your conscience gives you grief, you have the blood of Christ, which cleanses you from all sin. You know that your God no longer remembers the sins of your youth. You know that you left the way of moral excellence and loved vices very much, but you are sincerely sorry for everything and now seek God's mercy. It is true that God condemns sinners and you should be condemned. How can you stand before him? Everything about you is unjust, but your confidence is this: "Whoever believes in him shall not perish."
God is angry with all sinners. But there is forgiveness with God in repentance and faith. If sin, death and punishment threaten, God's grace is more powerful. Your conscience, hell and the devil may terrify you, but your heart is free from all doubts and prays, "God, do not treat me according to my sins, because Jesus has paid for them all."
Live in this faith and die in this faith and no other. Jesus will give you everything that strengthens your weakness. We are nothing but Jesus is everything. Your frightened conscience can rest. Your spirit can have comfort and courage. God will sweeten all sorrow. So everything will be good. That is your comfort and joy.
Prayer
Praise to the Father, and the Son together with the Holy Spirit. By faith make me ready for you now and forever. I will not leave my Jesus. Amen.