Peace of Our Savior Lutheran Church and Preschool - WELS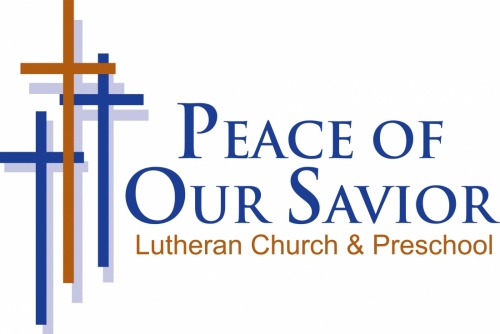 "Peace from God the Father and Christ Jesus our Savior."

Titus 1:4
Lenten Service
Wednesday Evenings at 7:00pm

Sunday Worship Services
9:30 am - Worship Service

10:45 am - Sunday School and Bible Class

Do Not Hide Your Face from Me
Do not hide your face from me. Do not turn your servant away in anger. You have been my help. Do not reject me or forsake me, O God who saves me. Psalm 27:9
We step before God's throne and humbly ask him not to turn his gracious face away from us poor sinners.
Gentle God the Father has made mankind in his image. In him we live and move and have our being. We would perish without him. He has often saved us in strange and unexpected ways. There was only a step, only a hair between death and life. God understands us and gives us the necessities of life. He is also a loyal friend who thinks about us in good times and bad.
God the Son has redeemed us from the heat of hell through his blood. The law that was impossible to do, he did for us and satisfied the anger of God. When sin and Satan accuse us and our hearts despair, then we need the Son as our Mediator so the Father does not condemn us. He is always our Advocate, our Salvation, our Comfort and our Friend. We can be calm here and happy there through his work alone.
God the Holy Spirit creates everything in us through his power and grace. If there is anything good about this life of ours, it is because of him. Because of God the Holy Spirit we correctly know God and call him our Father, and we keep and love his true Word and Sacraments to the end. Because of the Spirit we stand firm in temptation and do not perish in despair. We feel comfort in our hearts and are overcome with joy.
Prayer
O God, I thank you today with my heart and words for all the goodness, faithfulness and grace my soul has received. I ask that your hand of grace remain stretched out over us today. I commend to your protection my work, property, honor, friends, and my body and soul. Help me to be godly from the bottom of my heart so that my entire Christian life may be sincere and righteous, not in pretense and hypocrisy. Release me from the guilt of my sin and be patient with your servant. Ignite in me faith, hope and love. Lord, grant me a happy ending on the last day so that I see you forever. Amen.