Peace of Our Savior Lutheran Church and Preschool - WELS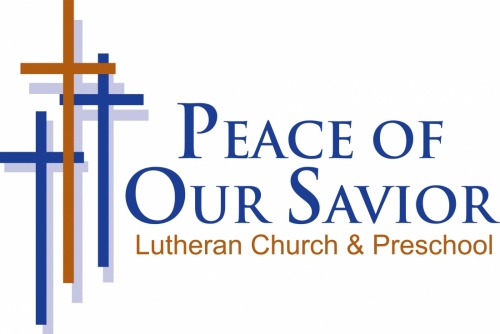 "Peace from God the Father and Christ Jesus our Savior."

Titus 1:4

Sunday Worship Services
9:30 am - Worship Service

10:45 am - Sunday School and Bible Class
July 14
By Grace You Have Been Saved

Indeed, it is by grace you have been saved, through faith-and this is not from yourselves, it is the gift of God - not by works, so that no one can boast. Ephesians 2:8-9
"It is by grace you have been saved." Do you believe that or don't you believe it? Don't mislead yourself. If the Scripture says it, it must be the truth. Heaven is yours by grace.
By grace! There is no merit in grace. Your own effort doesn't do any good. God, who out of love appeared in the flesh, brings us the blessed benefit that his death won for us. And he saved us by grace.
By grace! Remember these words: By grace - as often as your sins trouble you, as often as Satan wants to harm you, as often as your consciences gnaws at you. What your mind cannot grasp, God offers you by grace.
By grace! Jesus came to earth and took on the burden of our sins. What compelled him to become your friend? What do you have to boast about? The only thing you have to boast about is that Jesus wanted what was best for you and saved you by grace.
By grace! This basis of salvation will remain as long as God does. What the servants of Jesus wrote, what God praises in his Word, what our entire faith rests on – is grace through the blood of the Lamb.
By grace! Don't think that you can help. It is true that God calls Adam's children by grace to the promised rest, but whoever thinks that it is fine to keep on sinning, does not have grace.
By grace! Whoever hears these words, do not be a hypocrite. When a sinner is converted, he first learns what grace is. Grace doesn't seem like a very big deal to those who love to sin, but to those who know the condemnation that their sins bring, grace is a miraculous thing.
By grace! Die depending on grace. You can't feel grace but that is fine. You know your sinful infection but you also know the One who heals you. You are happy because grace makes you happy.
By grace! Sin and the devil, hear this! Wave the flag of faith and confidently go through the Red Sea to the Promised Land despite all doubt. Believe what Jesus promises whether you feel it or not.

Prayer
I thank you from the heart for this wonderful grace, and I am glad for this redemption. Amen. (Prayer by Martin Luther)